Curacaos Christoffel mountain is 375m (1230ft) and the peak offers an amazing view of the whole western area of the island. Climbing up is a walk of approx an hour, on the peak we will do the symbolic ceremony. We toast with water or sparkling wine and descend slowly back down. A jeep is waiting for you to take you to some secret caves and a beach. The day will be rounded up with a nice dinner or pick nick
---
Curacao is well known among divers around the world. Its colorful reef, good sight under water and low reef attracts many under water lovers each year. Many fish will also contribute to this under water wedding. In the warm waters will the ceremony be held on approx 5m in the sand with signs
Afterwards, back on land we toast with sparkling wine and take you in a Jeep to secret caves and beautiful places or to another beach to relax
---
Daibooibeach is a small public beach bay in the middle of the island. Its characteristics are the small palm roofed huts scattered on the beach and a little beach bar. We decorate one of the little palm huts in white and celebrate the ceremony under it,Afterwards we toast on the beach and enjoy the view on the ocean. Nice sunsets!l
At kleine Knip beach in the West, we can also set up an open ceremony table with chairs on the beach, directly at the water. 
Kleiner Knip oder Daibooi freies Setup
---
@ Daibooi beach or kleine Knip beach, both public beaches, we set up the wedding trelli directly at the ocean and decorate it nicely with white fabric and beach elements. 
---
@ Daibooi beach or kleine Knip beach, both public beaches, we set up the wooden door decoration for up to 9 persons (extra persons possible) nicely decorated with silk flower arrangements 
---
The Avila Beach Hotel offers various locations on the beach, set up open on the beach, including Welcome Drink and wedding cake
---
Romantic Sunset trip with the Kailani for up to 20 persons. On board we will hold the ceremony.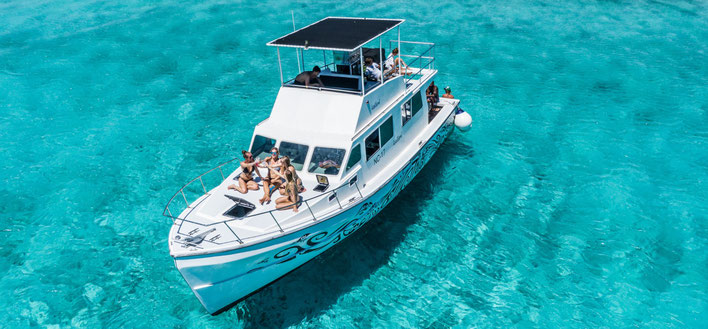 ---
On the private Plantation Porto Marie  you can find a hidden gem, the private beach Playa Hunku. No visitors are allowed to the beach, it is only accessible by boat from the ocean. For the wedding we will rent the beach exclusively and place the large wedding trelli with silk flowers. The old wooden shack is a great location for a photo shoot. 
---
One of the highlights in the Caribbean is to sail with a catamaran through turquoise colored waters and snorkel. A warm breeze, salt on the skin, what a great location to get married on.
For the catamarn, we offer three options:
Sundowner ceremony on the catamaran during a 2,5 hour sunset trip in the East of Curacao, Mambo and Jan Thiel beach, drinks included up to 50 persons.
Whole day trip to Klein Curacao or west coast trip to Kokomo and Kas Abao. Ceremony on board ot the catamaran. Drinks and food included for up to 50 persons. The experience of a life time.
Whole day trip to Klein Curacao and ceremony on the beach of Klein Curacao, an uninhabitated island with incredibly blue waters. You will never forget your Caribbean wedding and the colors of Blue. Including snorkeling, drinks and food for up to 50 persons. Often we meet sea turtles
---